Company Profile
Pain Point Analysis
Solutions
Advantages & Guarantees
Customer Cases

Company Profile
Shenzhen Thinmoo Technology Co., Ltd, a mobile Internet company focusing on intelligent hardware and cloud services for smart communities.
Our core team has many years of experience in software and hardware design and development, with deep technical accumulation in Internet audio and video communication, intelligent hardware and artificial intelligence.
With the vision of "Serve the Construction of Smart City" and the purpose of "serving the construction of smart cities", we continue to optimize our management and improve our team's ability to serve the construction of smart communities with high quality products and innovative technology to create a better community.
Corporate Motto:
Team Cooperation Technology Innovation
Business Philosophy:
Customer First, Quality First
Service Tenet:
Quality Service, Integrity-based
Pain Point Analysis
Smart community refers to the use of various intelligent technologies and methods to integrate the various existing service resources of the community, providing the community with a variety of convenient services such as government, business, entertainment, education, medical care and mutual assistance. From the application direction, the "smart community" should achieve the goal of "improving efficiency with smart government, improving people's life with smart people's livelihood, creating smart life with smart family, and improving community quality with smart community".
Owners are not satisfied with the work of the property. Low recognition
High costs for property companies. Heavy operational burden
Grassroots personnel are not competent enough to keep up with the times. Inefficient
Lack of standards in property management. High arbitrariness
The city is a product of human civilization development, and the community is its most basic component.
As a carrier for the survival and development of city residents, the wisdom of the community is a concentrated expression of the city's wisdom level.
Functionally speaking, a smart community is a service center that provides safe, efficient, and convenient intelligent services to residents to fully meet their needs for survival and development. A smart community consists of highly developed "neighborhood center" services, high-level security and intelligent community control.
Problems in the management of smart communities
Lagging of information
Few value-added property services
Security incidents affect social security
Inefficient property management
Solutions
Smart Community Concept:Using a new generation of information technology such as Internet of Things, cloud computing, mobile Internet, mobile terminal and OTO, it integrates the functions of many fields such as intelligent building, intelligent home, intelligent property, intelligent security, digital life, etc. It integrates many life help information and services such as property service, information notification, property bill payment, surrounding stores, community activities, community circle, etc. into the same platform to provide a safe, comfortable, convenient and low-carbon modern community living environment for community residents.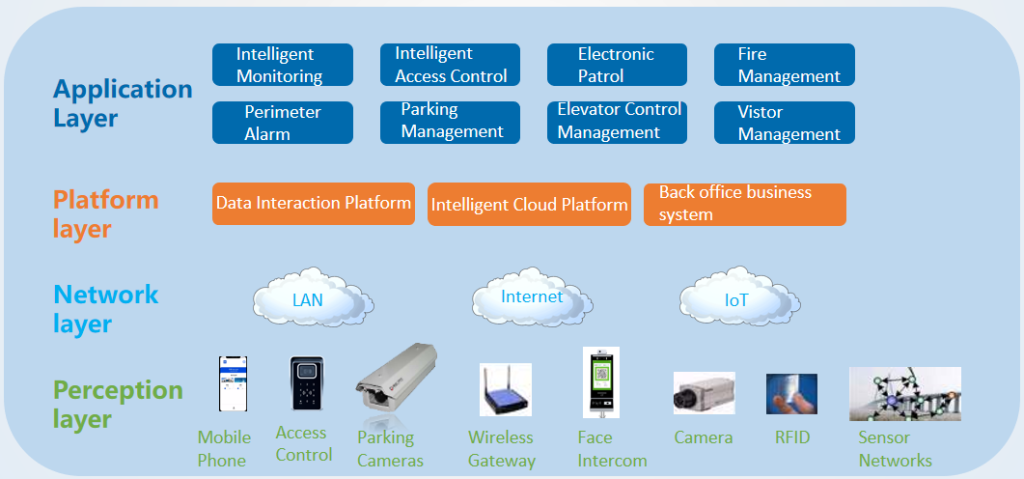 Platform Value
Community Managers
Effective cost reduction Unified operation management platform. Reduce property labor costs and improve service efficiency
Provide full-scene interconnection capability Connect to intelligent systems such as access control, parking, intercom, monitoring, elevators and smart homes to build a closed loop of data/services
Innovative and intelligent service methods Connects to smart product operations, community business and public services to provide faster value-added services for residents
Empowering the digitization of community management Provide systematic capabilities through the platform to establish smooth information flow and realize digital and intelligent management of the whole community
Community Households
Easy access Realize the unified identity authentication system of the community, connect the passage management system, and realize the senseless access of people and vehicles
Territorial Security Protection Community security multi-system linkage, timely response to alarm events inside/outside the house to ensure the safety of people/property in key areas
Full-scene linkage capability One client Provide the entrance of whole house intelligence and smart community, forming the organic linkage of home space and community space
Rich scenario-based services Data fusion platform to collaborate with different social resources to provide access control, bill payment, security, visitors and other multi-personalized scenario service capabilities
Intelligent Access Control Management
Senseless Passage
Suitable for high-end residences. Direct identification access.
Free up your hands, no need for cards, swipe your face to pass
Maximize the prevention of outsiders from tailgating. Keep community residents safe
Multiple ways to open the door: support QR code, Bluetooth, network, face recognition, cell phone APP etc.
Visual intercom call
AI Intelligent Management
The platform automatically records data for analysis and alerts
Stranger alert alerts
Free setting of travel time
Advertisements and announcements are sent out quickly
Health code verification, intelligent identification, helping to prevent epidemic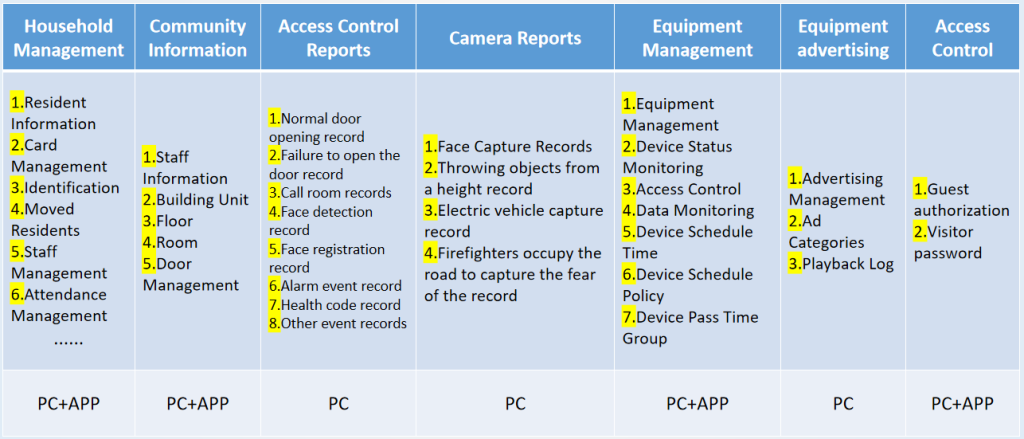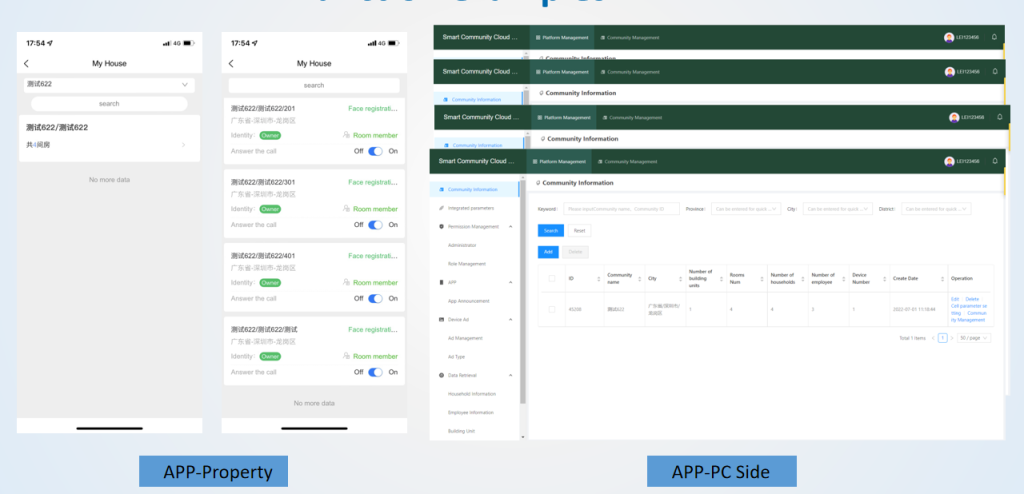 System Value
It adopts face biometric technology, which can't be copied or imitated, with fast recognition speed, simple and convenient operation.
Provide perfect data analysis to reduce unstable factors in the place.
Managers can quickly view the site situation, do real-time tracking.
Automated intelligent security interaction tool, effectively preventing information leakage and misinformation.
Connected to the public security system, it can carry out big data analysis. Realize the personnel can be managed and controlled.
Intelligent repair system
The intelligent repair system is dedicated to improving the safety and management level of the community, better protecting the owners' daily life and creating a more comfortable living environment.
With the continuous improvement of economy, people's requirements for material level are also increasing; in order to provide humanized services to the community owners more conveniently and quickly, the number and types of modern community intelligent devices are increasing, and the daily management and fault reporting of the devices have become a difficult problem for the properties.
Property repair system solutions cover all equipment information management within the community, such as property repair management system integrated management integrated work order system, owner repair, property repair, work order assignment, evaluation system, maintenance staff management, item management.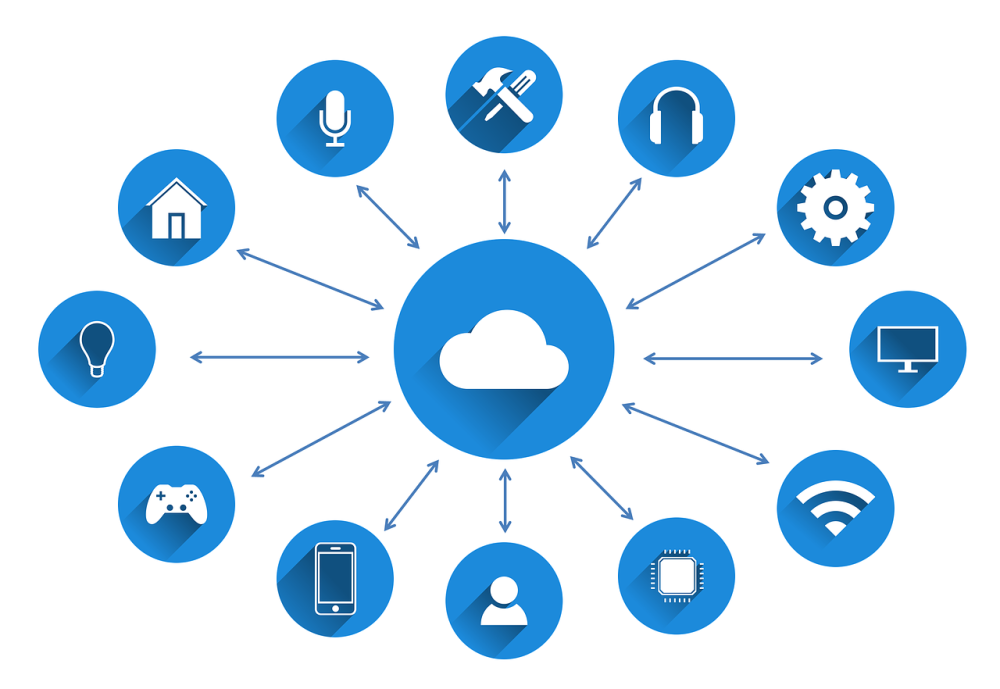 APP Report repairs. Easy and fast.
Work order assignment. Clear responsibilities.
Work order follow-up. Status control.
Item management. Clear access.
Repair classification. More accurate positioning.
Role classification. Easy to manage.
Evaluation System. Guaranteed Service.
Report Management.Help Analysis.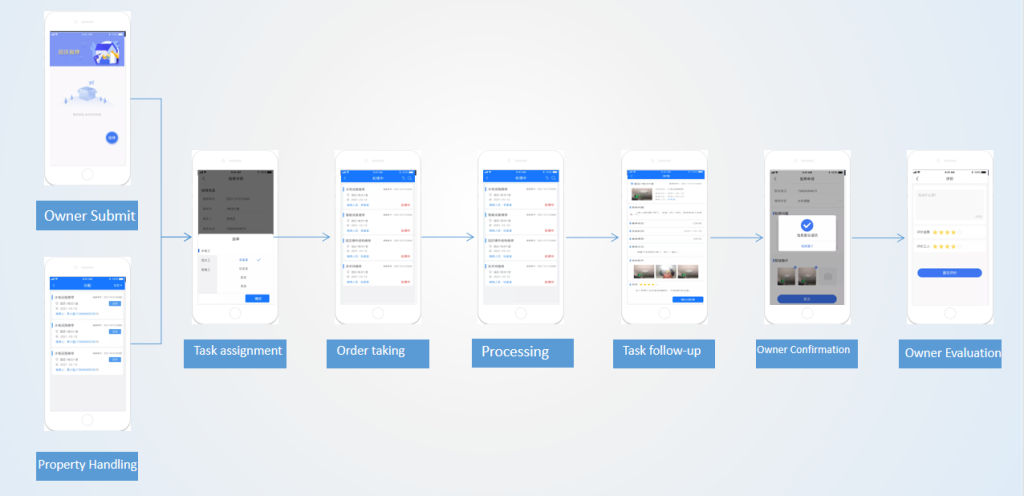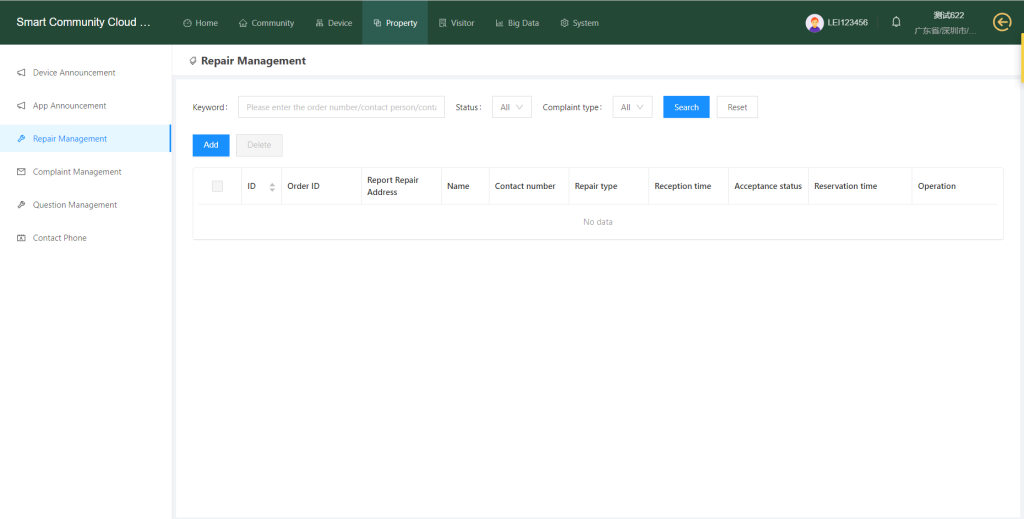 Intelligent Elevator Control System
Thinmoo face recognition stair control system is committed to improving community security, management level, better protect the owner's personal property security, to create a more comfortable residential environment. The system should have two kinds of platform introduction, one is access control ladder control linkage program, and one is separate ladder control linkage program.
Contactless intelligent access control system, through cell phone Bluetooth (Bluetooth card), QR code, face, password and other identification control access control open, control the elevator to reach the floor with permission, realizing the real zero contact; intelligent access control system can call the elevator reservation through the cell phone system to achieve zero waiting for the elevator
Through Bluetooth and QR code identification processing instead of traditional key input, avoiding the use of contact with the elevator key panel can effectively stop virus infection and transmission, while also providing a more intelligent and interesting comfortable elevator ride experience, and also reducing the difficulty and cost of property management.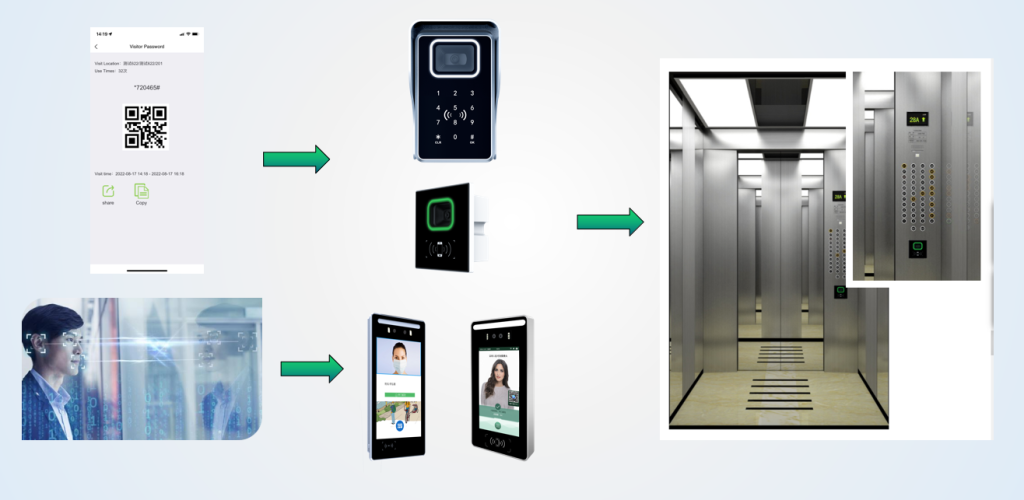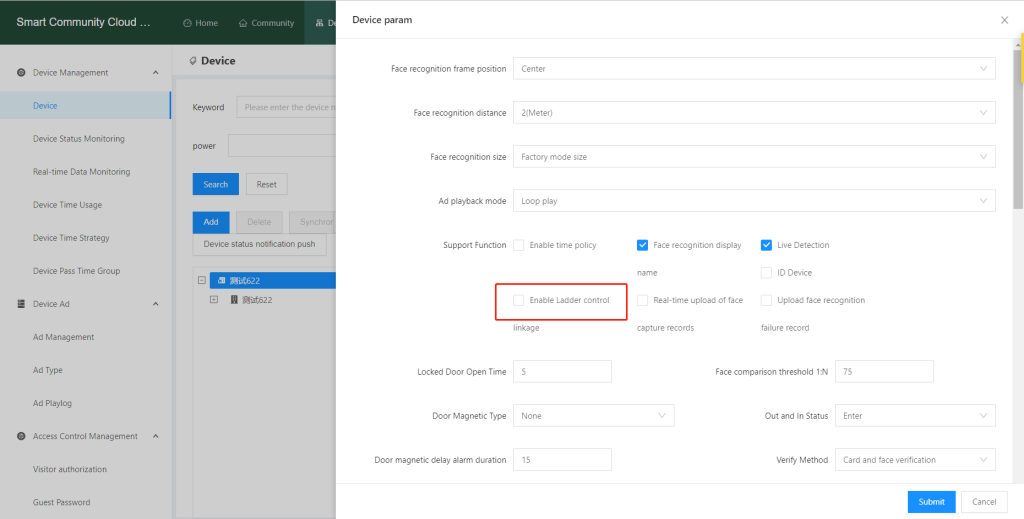 Intelligent Visitor System
Shenzhen Thinmoo Technology Co., Ltd launched a new visitor system, support access control, elevator control multi-end linkage, set reservation, audit, access to the field together with a full range of solutions!
Family and friends visiting, owners can apply in advance for database entry or QR code, swipe face or scan code to enter.
For the elderly who cannot conveniently use electronic products, they can apply and remotely authorize through the property, and enter through face recognition senselessly.
Delivery man need the ID card and face double comparison records.
System Functions
Visitor Reservation Can scan the code on WeChat entering the mini program to make a reservation, or make a reservation on visitor machine.
Invite Visitors The visitor system also supports inviting visitors to visit, no need for visitors to fill in information.
Appointment Approval After the appointment, the result can be received in the mini program or APP, which is convenient and fast.
One code pass Multiple devices can scan the QR code after one authorization.
Intelligent Property Management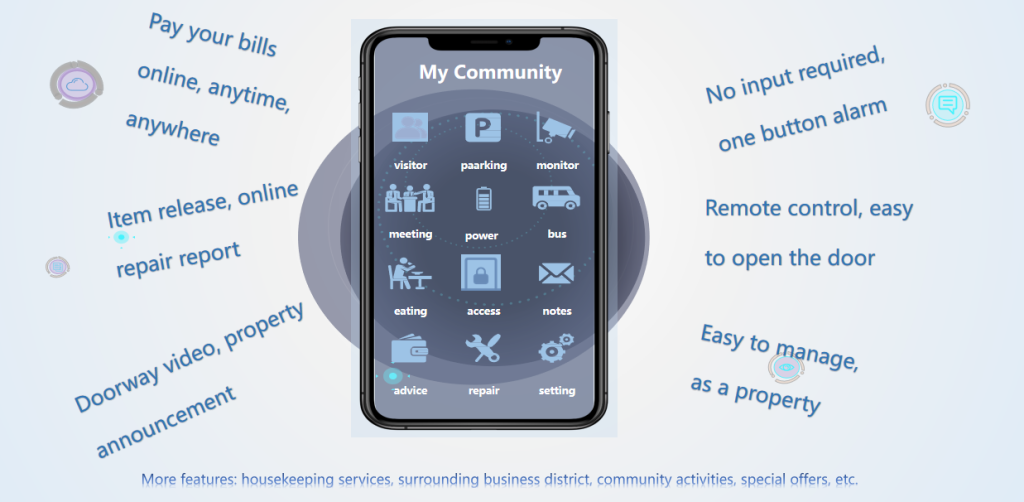 Smart Charging Post System
Support a variety of payments, remote control, sweep code payment, car park multi-end linkage.
A full range of solutions for electric bicycle, electric car!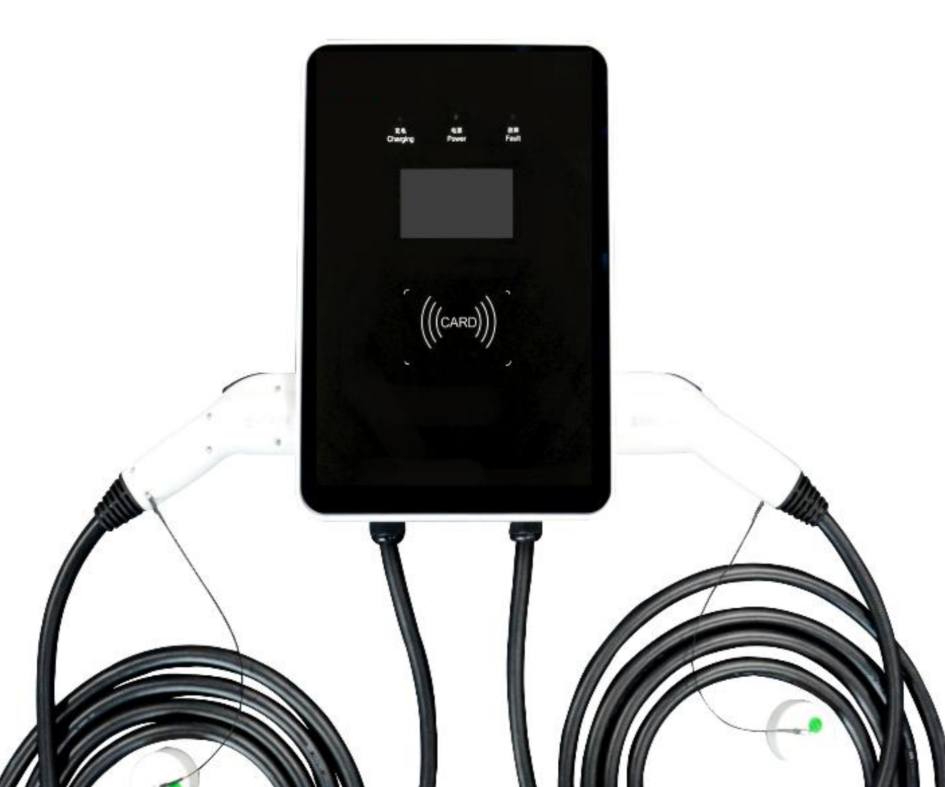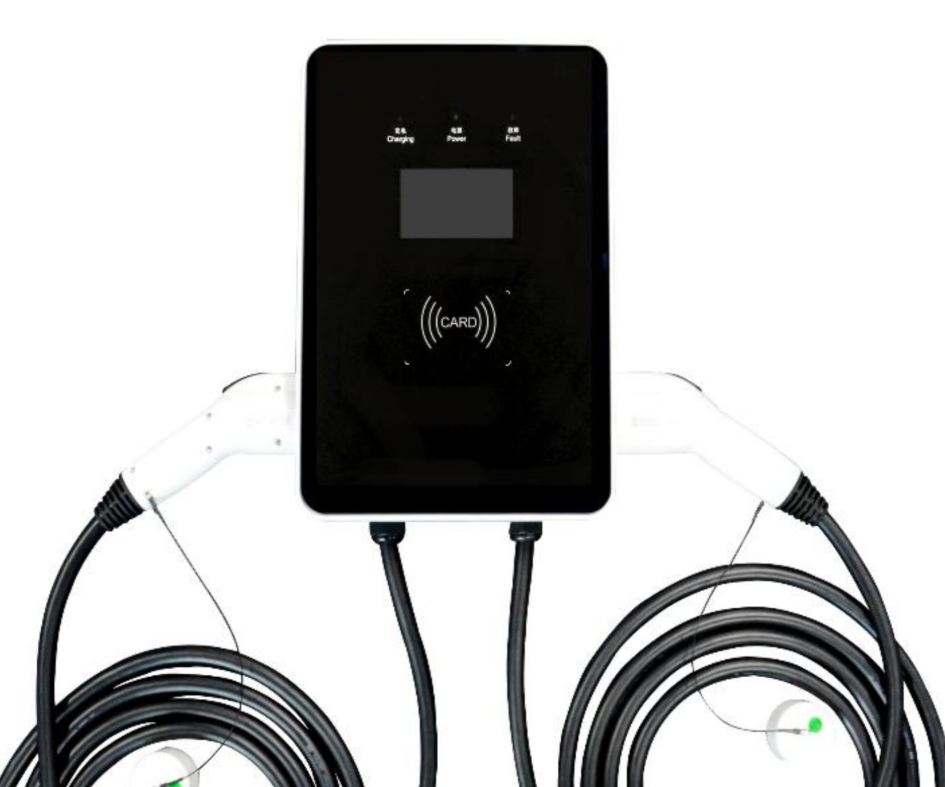 Scan to charge Scan to pay, efficient and convenient
Remote control moblie device to control remotely
Connected parking Parking charging linkage
Secure payment Support WeChat / Alipay, Full self-stop. Support online recharge/lost/transferred
Report Management Revenue statement, daily statement, monthly statement, revenue stream
Multi-End Management APP+mini program+Official Account
Real-time data transfer function
Through 2G/3G/4G wireless networks, data from the charging pile terminals can be transparently transmitted (intact) to the charging pile system management platform at the back-end of the server in real time.
Compatible with charging post
Charging pile system management platform software mainly realizes the management of application functions including metering and billing system, charging monitoring system, power distribution monitoring system, security monitoring system; linkage with parking lot, charging without parking fee.
Remote monitoring function
The management platform on the server side can monitor the operation of the charging pile at any time, including the uploading of power transmitters, circuit breakers, PLC controllers, meters, touch screens and other equipment working parameters, and can also give various working instructions to the charging pile terminal equipment through the wireless DTU.
Remote alarm maintenance function
Can monitor the operation status of the charging pile in real time, and once there is a fault alarm, it can be remotely maintained and debugged or upgraded, so that the problems of abnormal charging pile terminals can be handled in time.
Advantages & Guarantees
Company Advantages

Scenario-based product design Full support for APP, WeChat official account, mini program and other application development.
Cloud Platform Services Multi-application Development Serving mobile internet entrance/exit applications.
Professional SDK team service Mature mobile SDK framework, successfully interface with hundreds of enterprises and meet the needs of various scenarios.
Product Line for Mobile Internet and IOT Multiple installation methods. Meet the needs of new installation and renovation.
Model Compatibility Test Products passed the quality inspection of National Quality Inspection Center

Platform Advantages

APP Platform Integration Capabilities Provide free SDK, API.
WeChat platform integration capabilities Support WeChat platform docking.
Platform Stability Deployment security, data backup management.
Platform Compatibility Access using SOAP and HTT protocols , providing docking services for software.
User privacy security Platform access does not need to provide user data.

Service Guarantee

Strong technical support, perfect after-sales system
More than 30 after-sales outlets nationwide. Wide coverage
Overseas Cooperation
Professional R&D team, fast docking solutions
Customer Cases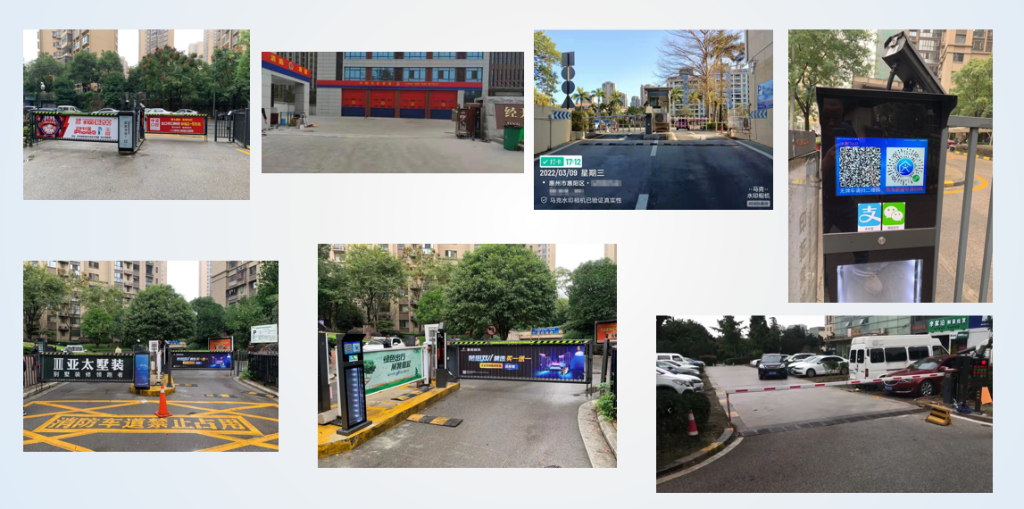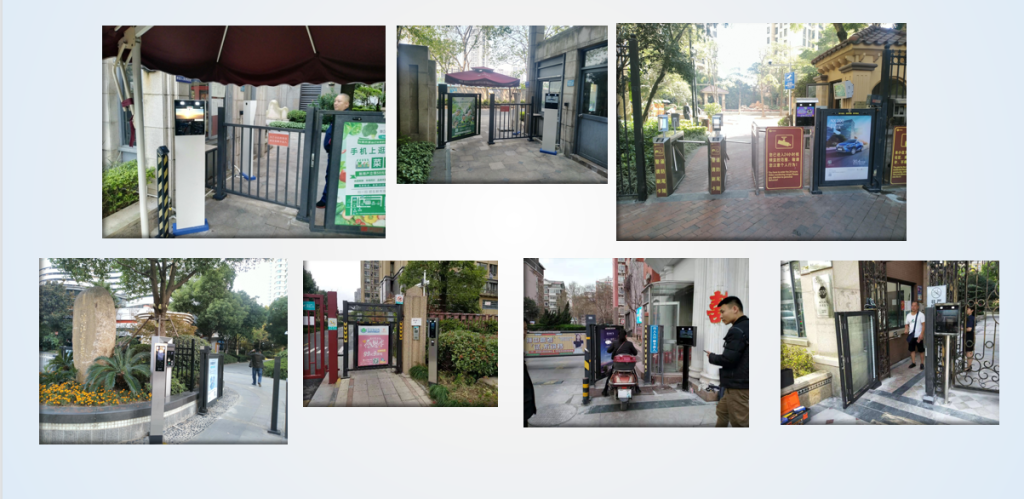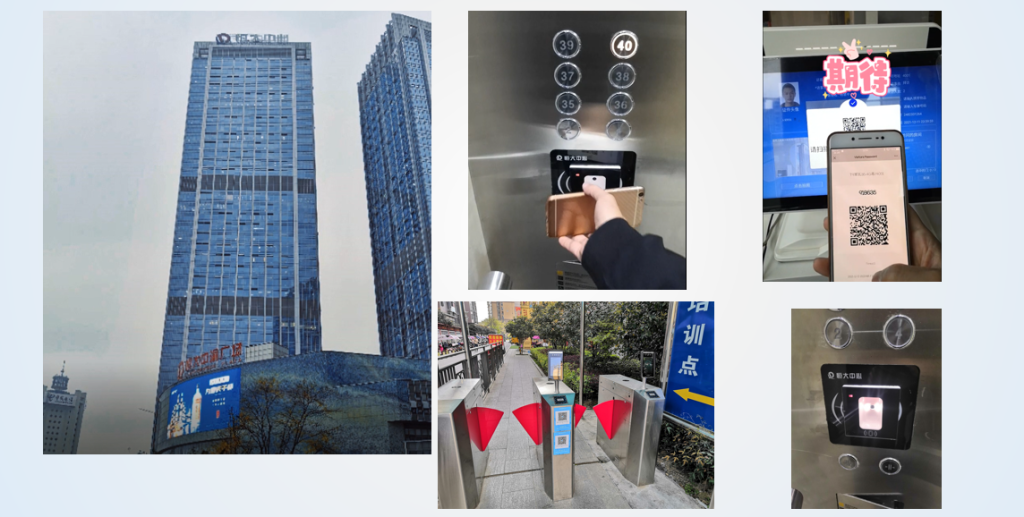 🙂
Shenzhen Thinmoo Techology Co., Ltd. – Video Door Phone, Smart Phone Access Control (alibaba.com)