Intelligent Cloud Intercom Access Control
Cloud Intercom,Android System,High Performance CPU,Digital Gate Machine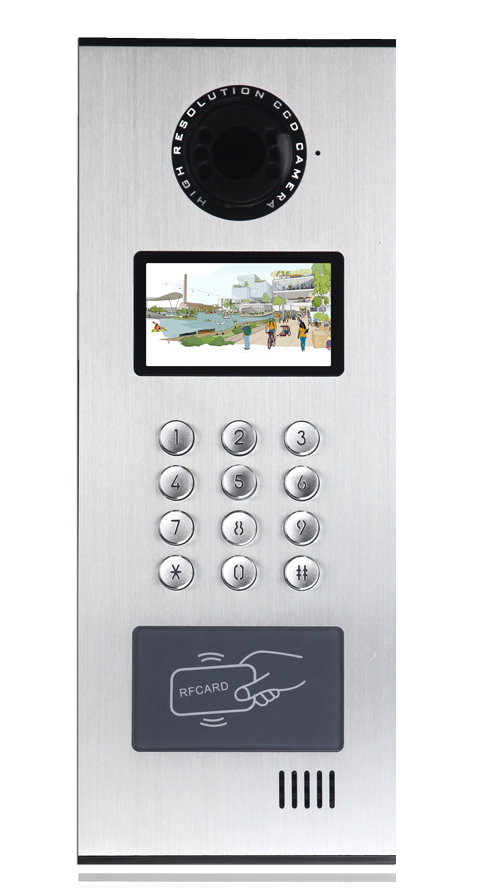 V6130 Intelligent Cloud door intercom realizes cloud intercom access control for video calls with visitors through mobile phone APP,
supports door phone calling mobile phone APP, indoor phone, mobile phone cellular phone and other functions, metal shell design,
Android system, high-performance CPU, supports communication networks around the world, and supports many ways to open the
door, such as swiping card, password, visitor temporary password and so on. It is suitable for the installation and use of residential
areas, apartments, schools, hospitals, parks, offices and other scenes.
Integrate the functions of cloud visual intercom, local visual intercom and access control by swiping card password.
 1.8G high-speed CPU, Android.
Optional 4G communication with standard Ethernet.
Multiple unlocking methods: mobile Bluetooth / mobile remote / optional QR code / swiping card / password unlocking /
optional telephone transfer unlocking / indoor unit unlocking, etc.
Epidemic prevention: optional temperature measurement function.
200W low illumination camera.
Appearance design: ultra-thin, elegant and stunning high-end design, silver, gold optional.
Remote cloud management to minimize on-site management.
Support security capture: video information collection of entry and exit personnel, early warning.
Seiko, equipment waterproof grade IP54.
Main chip
A53 1.8G main frequency
Memory
2GB
Storage
16GB
Door opening verification mode
Card, Password, Remote, Bluetooth,Video Intercom
Radio frequency card type
IC (ISO144443A/B), ID optional support
Press the key
Metal physics button, 12 key
Networking mode
Ethernet, optional 4G
Card capacity
100000
Bluetooth door opening
distance
Barrier-free within 10 meters
Camera
200W
Supplementary lamp
White light supplementary lamp
Cue lamp
Red, green and white cue lights
Access control input and
output
All the way out the door switch, one door magnetic input and one door output
Alarm input
1-way alarm input
Weigen interface
1-way Weigen output interface
RS485 interface
1-way RS485 interface, optional configuration for ladder control linkage
Shell material
Metal, tempered glass
Waterproof grade
IP54
Operating temperature
-30℃~80℃
Working humidity
10-90%
Power specification
12V/2A
Equipment size
128.2*47.5*330mm