4.3-Inch Visual Indoor Extension
4.3 Inch Color Screen    Visual Intercom    Support Ladder Control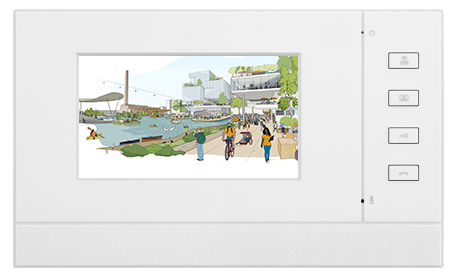 H8043 is a 4.3-inch color screen visual indoor extension, which is based on analog technology. It can open the door with one button
through voice, video and door intercom, which is simple, convenient and low-cost. It can work with digital analog door machine and
realize the effective integration of traditional analog intercom and mobile phone cloud intercom. It is a cost-effective visual intercom
product.
Installation mode
Wall mounted type
Display mode
LCD-4.3 inch
Screen resolution
480*272
Power supply mode
POE power supply
Operating temperature
-20℃~55℃
Working voltage
DC-18V
Shell material
ABS plastic
Plug-in mode
RJ45- difference
Operating system
Single chip microcomputer system
Two defense zones
Intercom, unlock
Touch screen mode
Not supported
Keyboard mode
Mechanical 4 button
Support ladder control