Visual Intercom Doorway Machine
Cloud visual intercom, Swipe card door, Bluetooth door, Metal door guard, Outdoor intercom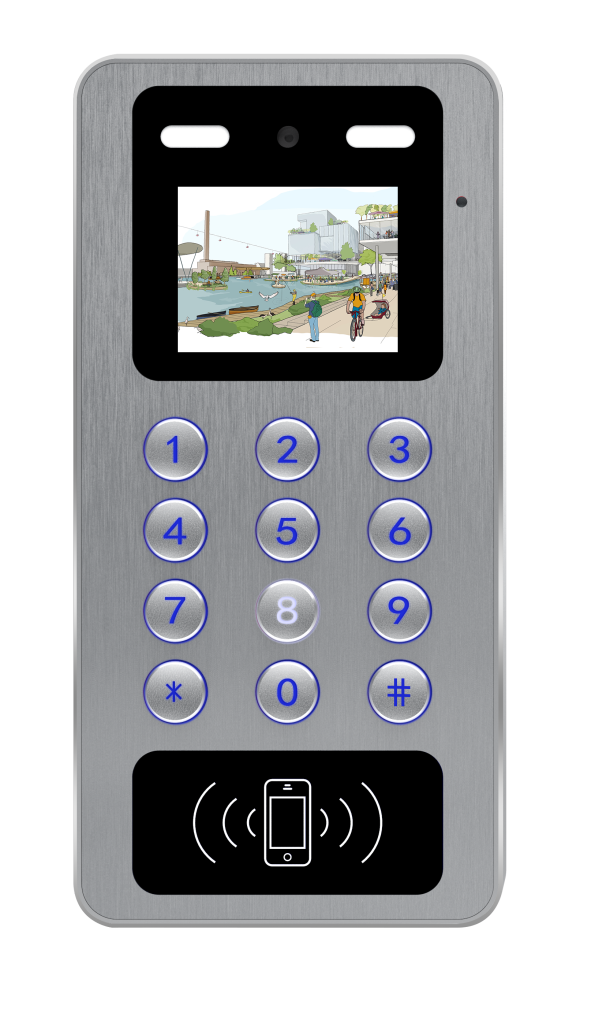 V530 visual intercom door machine is a new generation of visual intercom access control equipment with integrated functions such as visual intercom, QR code, card swiping, Bluetooth, etc. It can be used in access control and elevators, and can be used to verify the
entry and exit of employees, owners and visitors. through the Internet, the Internet of things advanced technology to achieve convenient access experience. All aluminum alloy design, outdoor waterproof, metal physical buttons, open the door remotely, intercom door, swipe card door, Bluetooth door, remote door and so on.
Integrate the functions of cloud visual intercom, QR code, swiping card and password access control.
Metal design, firm and durable.
Standard Ethernet and optional WiFi/4G communication.
Multiple lock unlocking methods: mobile Bluetooth / mobile remote / QR code / card swiping / password unlocking, etc.
200W HD camera.
Remote cloud
management to minimize on-site management.
Seiko, equipment waterproof grade IP65.
| | | | |
| --- | --- | --- | --- |
| Main chip | 1.5G | Memory | 128MB |
| Storage | 128MB | Visual intercome | Local intercom + cloud intercom (designated area) |
| Screene | 2.8-inch color screen | Camera | 200W |
| Door opening verification mode | QR code, card, password, remote | Radio frequency card type | IC (ISO144443A/B), ID optional support |
| Press the key | Metal physics button, 12 key | Networking mode | Ethernet |
| Card capacity | 100 Thousand | Bluetooth door opening distance | Barrier-free within 10 meters |
| Supplementary lamp | White light supplementary lamp | Cue lamp | Red, green and white cue lights |
| Access control input and output | All the way out the door switch, one door magnetic input and one door output | Alarm input | 1-way alarm input |
| Weigen interface | 1-way Weigen output interface | RS485 interface | 1-way RS485 interface, optional configuration for ladder control linkage |
| Shell material | Metal, tempered glass | Waterproof grade | IP65 outdoor waterproofing |
| Operating temperature | -30℃~80℃ | Working humidity | 10-90% |
| Power specification | 12V/2A | Equipment size | 195*96*23.5mm |